About Mauricio Callejas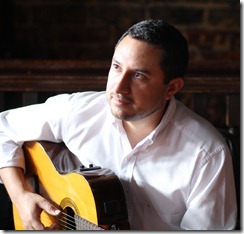 Mauricio Callejas is a soulful troubadour that approaches latin music from a unique vision that summarizes different traditions like the rhythms of Central American music, the poetry of the Latin American "Nueva Cancion" and the cutting edge technology of modern music.
Mauricio was born in El Salvador where he discovered his vocation as a songwriter. In 2002, he moved to  Austin TX, the Live Music Capital of the World, where he continues working as a musician, producer and cultural promoter.
Mauricio has recorded 3 albums: "Cosas de la Calle" 2002 in El Salvador, "Mágico" in 2009 in Austin, produced by Stephen Doster and "Helado Pop" in 2012 also in Austin TX produced by Michael Ramos.
Mauricio Callejas performs both solo with his guitar and with his band, a group of accomplished musicians that take the audience on a musical journey throughout Central America and other Latin American countries.
---
Music Description
"Mauricio Callejas' music is beauty personified, the colors, shapes and sounds he paints of his native home El Salvador transport you to a place you won't soon want to leave. I am very honored to be part his record" Stephen Doster, Producer.
Mauricio Callejas' music is influenced by popular rhythms of his native El Salvador and the rest of Latin America with special emphasis in Central America music. His compositions are meaningful and touching, they are blended with rhythms that delight the audiences and invite them  to discover that Cumbia, Latin Jazz, Rock, Parranda, Salsa, Calypso are just a few of the elements in the variety of his repertoire.
---
The Band
The band has two main formations, as a quintet and as a septet
Quintet:  (drums), Caesar García (piano), Marcel Ribas (bass), Teresa Ramos (vocals and percussion) and Mauricio Callejas (Guitar and vocals)
Septet: The quintet is joined by Kristian Diaz on percussions/drums and Joshua Thomson on Saxophone
Live performance videos can be found at:
---
Promotional Songs
Download full versions of the following songs:
---
High Resolution Pictures
Click on the image and it will take you to the file page. Right click and choose "Save picture as"
---
Media Coverage
Links to online media coverage:
---
Contact information